For us, meeting the highest demands of our customers is both our passion and obligation in equal measure. We have the expertise and technology to offer excellent painting quality at all times. Our experienced painters are masters of their trade and are a well-rehearsed team, where every movement finds its mark. Every painted product consistently follows a systematic production process from pre-treatment and coating to packaging and logistics. In this process, a product will undergo several quality controls to guarantee the highest quality in every processing phase. The painted and assembled items only reach dispatch after passing the final quality inspection.
For over 10 years we have been fully certified according to DIN ISO 9001-2015 and also ensure the process reliability of our work. We think systematically and effectively avoid 're-inventing the wheel' every day.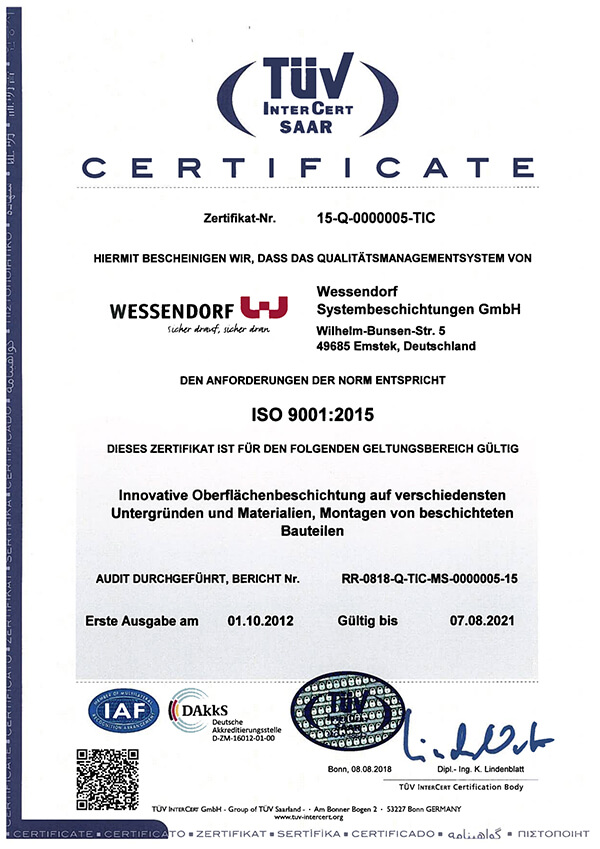 Within the framework of continuous development and improvement, we are in the process of implementation and certification of IATF 16949, a term which will be more familiar to our automotive customers. A sound a robust certification takes time – therefore the final audit will not take place until the end of the first quarter of 2021. We hope to be able to present the implementation of IATF 16949 alongside ISO 9001-2015 to our customers and partners in the springlike second quarter of this year.
In doing this, we want to be on an equal footing with our customers and system suppliers and show that we think and live their standards voluntarily. For the OEMs, this ideally also strengthens confidence in our entire production process and our mission statement: 'securely applied – permanently secure'
Clean and environmentally conscious work is a matter of course for us and part of our philosophy. Our high quality and sophisticated production methods meet all conditions necessary for environmentally compatible work in the field of surface engineering. In doing so, we consciously work in a way that saves energy and resources and avoid the unnecessary use solvents etc. All areas of our production shops are fully equipped with energy-efficient LED lighting and heat exchangers.
Our entire paint shops have full-coverage underfloor extraction with the latest technical equipment. (In the manual paint shop we use filter technology – in the robotic paint shop, liquid washing and air recirculation). In order to prevent the risk of dust ingress, the whole production workshop is fitted with a radiant ceiling heating system. This allows us to achieve almost clean room conditions and create the necessary conditions for exclusive high-gloss coatings. The grinding rooms are completely separated from the rest of the work rooms and have direct extract on the grinding machine and via a permanent air circulation system with floor filtration and extract.
Would you like to find out more?
We will be happy to convince you of our extensive know-how in the field of surface engineering in a face-to-face meeting. Do not hesitate to contact us without obligation! We look forward to meeting you!